Kay Hernan is a small fishing village on the south coast of Cornwall. The peak of its prosperity was in the 1880s. In 1886 it landed over 4700 hogsheads of pilchards most of which were sent by rail to Billingsgate Market in London. By the early twentieth century due to over fishing the pilchard stock declined rapidly and the fortunes of Kay Hernan with it. There were many small buildings near the quayside where the fish were packed and processed but they have been demolished or fallen into disrepair over the years. In more recent times the village has rebuilt itself from the tourist trade. The area where the pilchard processing buildings stood is now a car park that visitors can use get easy access to the beach and rock pools.
In 1862 the Southern Great Western Railway (a joint undertaking of the Southern Railway and the Great Western Railway) obtained permission to construct a branch line to Kay Hernan from the Paddington to Penzance main line at St Austell. The line was to be called "The Kay Hernan and St Austell Branch Railway". Its route was to be south-west to Tregony, south to Portloe and then west towards Kay Hernan. The final section of the line had to be tunnelled through Hernan Hill. The line emerges from the tunnel and passes immediately over the River Hernan and a level crossing enters the station limits.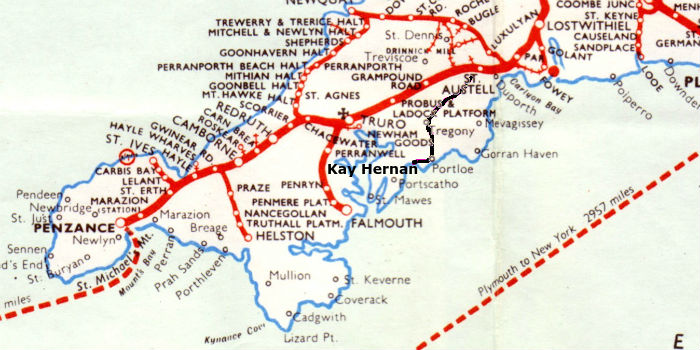 In 1963 Dr Richard Beeching's report on the future of railways in the UK recommended that the line from St Austel to Kay Hernan be closed. After the required level of consultation was carried out the line was scheduled to be closed on 28th February 1966. In 1965 a group of local businessmen in Portloe and Kay Hernan, with the help of a rail enthusiast group, managed to raise enough cash and popular support to persuade British Rail to enter into joint operation of the railway. This unique arrangement persists to this day with a regular if infrequent, "official" DMU services mixed with more "interesting" rolling stock of yesteryear.